It is important for Overseas Filipino Workers to keep their documents updated even if they are already deployed in another country. One of the legal documents that they should always have is the NBI Clearance.
However, most OFWs' contracts last longer than one year. Meanwhile, NBI clearance is only valid for one year. Thus, some OFWs are faced with the dilemma on renewing their clearances.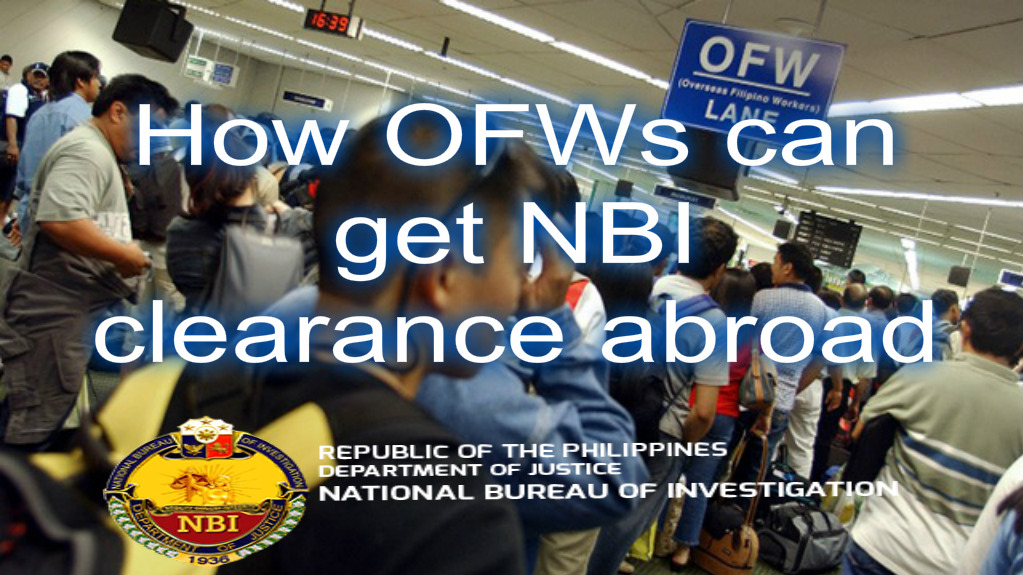 There is actually a way to process your NBI Clearance if you are an OFW currently working in another country. Here is a step-by-step guide to do so
1. You can get an NBI Clearance Application Form (NBI Form No. 5) from the Philippine Embassy/Consulate in the country where you reside. The form is free and not for sale.
You can also ask a relative in the Philippines to secure said form from the Mailed Clearance Section, 3rd Floor, NBHI Clearance Building, UN Avenue, Manila.
2. Fill out the Form and go to the Embassy/Consulate or nearest police station for fingerprinting, which should be rolled impressions. The one who took the fingerprint impression must sign on the Form. Processing/Notarial Fee for NBI Clearance is different in every country, so check with your consulate.
Attach a 2×2 picture in white background, taken within three (3) months prior application, photocopy of passport and other valid identification card/s.
3. New applicants should also register online at www.nbi-clearance.com. You would need your reference number because it will serve as the NBI's code in the retrieval of your data and status of application.
4. Enclose money order or bank draft amounting to Php200, negotiable in the Philippines, payable to the NBI Director. You can also enclose cash equivalent to two hundred pesos. The clearance fee is only Php 115 and the remaining Php 85 is for sending the clearance certificate through the Philippine Post.
5. You should send the application form to Ms Sandra P. Sorbida, Mailed Clearance Section, 3rd Floor, NBI Clearance Bldg., UN Avenue, Ermita, Manila. You can contact her at 5238231 Local 5465.
6. The processing time for applications will take a maximum of five days upon receipt of documents.
7. You can opt to have a friend or a relative as your authorized representative to submit your application personally in your place.
If you choose to have an authorized representative, here are the things you need to send to the Philippines:
• From No. 5 duly completed and stamped by the Consulate:
• Fee of Peso's 200 or equivalent
• Reply envelope showing your name and address in another country
• if sending via authorized representative use a Letter of Authority as described below
If sending via an authorized representative, write a letter to the National Bureau of Investigation and attach form No. 5 and state in your letter:
1. Name and address of person you are authorizing
2. Your new address in the country you are working in
3. Purpose of acquiring the NBI Clearance e.g. Immigration
4. Attach copy of bio-data page of your Passport and one other ID (drivers license for example)
Hopefully, the tutorial has helped solved your problem. You could also share this post to help other OFWs who want to secure their NBI Clearance.