After you have successfully registered online, set your appointment and paid for your clearance, you are set for the next steps in obtaining your NBI Clearance: the biometrics and printing.
To fulfill the final steps, you would have to visit the NBI office where you have set your appointment. But before heading there, be informed that NBI, just like any other government office, observes proper dress code. Although some branches or satellite offices maybe more lenient than the others, it is still much better to come in proper attire rather than regret being denied entry.
When visiting government offices, the general rule would be to wear smart casual attire. You don't need to be in a business suit or super formal clothes. You just need to look neat and casual.
What you CAN Wear:
For Males:
• T-shirts (Refrain from wearing obscene statement shirts)
• Polo shirts
• Pants
• Closed shoes (avoid wearing slippers or flip-flops)
For Females:
• Sleeved shirts/blouses
• Pants/ slacks
• Dresses not shorter than an inch above the knees
• Skirts not shorter than an inch above the knees.
What You Should NOT Wear:
• Tank Tops
• Shorts or jersey
• Anything too revealing
• Slippers
Since your photo will be taken for identification purposes, you will be asked to remove earrings, necklace, piercings etc. during the picture-taking. Better arrive without wearing them as to avoid wasting time to take them off. Eye glasses and contact lenses should also not be worn during picture-taking so opt to skip the lenses and settle for your specs instead.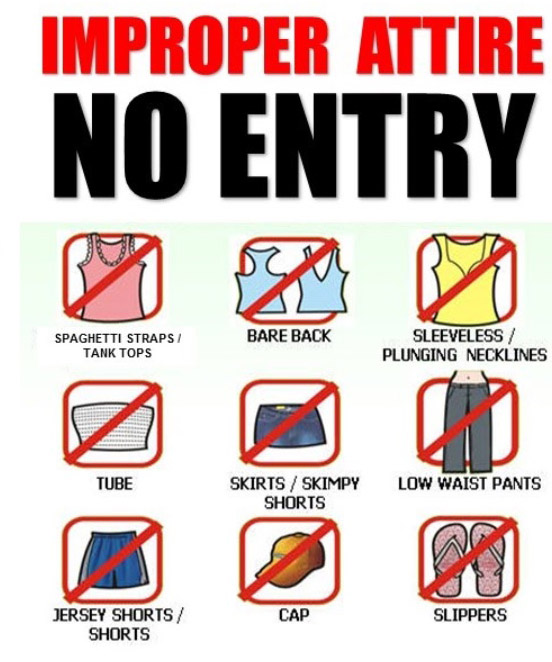 Regulations on what or what is not allowed in some offices maybe different because some maybe more strict than others. Just to be sure, it is better to follow the suggestions above or better yet, contact the NBI office beforehand to inquire.