During your online application, you will be asked what identification card will you be presenting upon your appointment for biometrics and printing of your NBI clearance. Before you choose that ID take note of the following:
Your Valid ID must be original, not photocopied, not tampered with and should not be expired. If you think your identification card would not cause you any problems, you're good to go.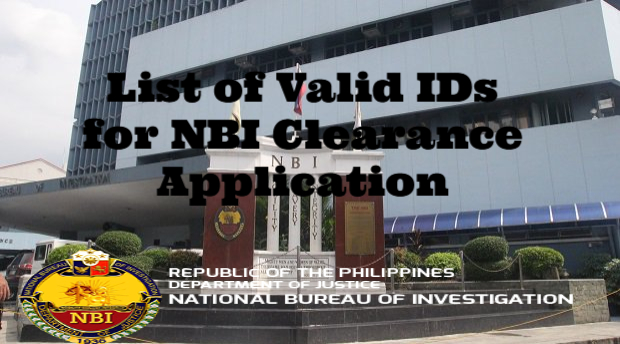 When filling up your application form, you would only be asked for one valid ID. But just to be sure, bring two or more valid IDs upon your appointment as supporting documents.
Here are the accepted Identification Cards when applying for an NBI Cleareance:
Valid passport
Voter's ID
Driver's License
PRC License
SSS ID
GSIS UMID
Postal ID
School ID
TIN ID
PhilHealth ID
Alien Cert of Registration
Senior Citizen ID
Previous Copy of NBI Clearance
NBI Personnel would check the validity and acceptability of your presented ID. Here are the guidelines on the validity of your ID.
Must be government-issued
Must be the original – photocopies are not accepted
Must be valid and current – check the expiration/validity of your ID carefully. If your ID has not yet expired during your online application, but did during your appointment date, it would still be considered as invalid.
Must bear the applicant's full name
Must bear a recent and recognizable picture
Must not be tampered with and is in good condition, with legible text and visible photograph
Be careful when choosing which identification card to be presented because you might be denied entry to NBI premises if your ID is questionable. Just make sure you have read and understood the guidelines well and you don't need to worry.